15,000,000+
Interactions completed
SmartGuide™ is an easy to use low-code development platform of choice for fast delivery of secure Enterprise & Government digital web/mobile services. — Curtis Page, Chairperson of the Board
Is SmartGuide the right fit for you?
Request a personalized demo to quickly find out
Personal loan chatbot
This chatbot automates the first part of a loan application by providing guidance and generating quotes that incorporate complex and variable calculations. Data is sent to an external system in addition to being used to dynamically generate a prefilled PDF form for local saving.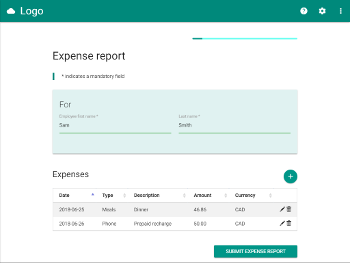 Expense report
In this sample, the base currency is the Canadian dollar and any expense incurred in another currency is automatically converted using a REST web service. Additionally, the completed report is made available for download as an Excel spreadsheet and an approval request is added to a task management system (Asana).
This fun tool shows how SmartGuide can be used to create educational applications such as this Lost At Sea team building exercise. In this exercise, you must rank items according to their usefulness in helping you and your team survive a disaster at sea. See how much you score and share the results via social media!
Bill splitter
This nifty tool provides an easy way for roommates and couples to divide bills based on their mutual incomes. The presentation layer is based on Materialize, the modern responsive front-end framework based on Material Design, one of the many frameworks that can be used with SmartGuide.
How-to articles
Display content only mobile viewers can see
Call a SOAP web service with authentication
Send text messages with Twilio
Demos
Creating a responsive web application
Prefilling a PDF form
Integrating with Dynamics CRM
Additional resources
Find app accelerators in the Forge
Get help using SmartGuide
Contact us if you have any questions