Adding a theme
The default theme provided with SmartGuide can help you quickly get started in developing customized presentation templates. We strongly recommend you first make a copy of this default theme rather than modifying it directly. This way, you can ensure you will always have a working copy you can refer to. Once your theme is created following the instructions contained in the template author guide, it can be imported into SmartGuide Designer.
To add a theme:
Click the themes tab in the main navigation bar:
2. Click the Add a theme button: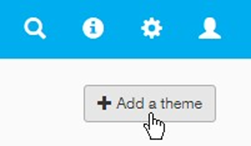 Enter the Theme name.
Click the Browse… button to locate the theme archive on your hard drive.
Indicate which Layout file to use.
Optionally enter a Description of the theme.
Click the Create button.